Living with diabetes: Diagnosis, management and in-home supports
Learn more about diabetes management and if you are eligible for an NDIS support plan.
This page provides information on diabetes and how Claro can support you to manage your health and treatment long-term.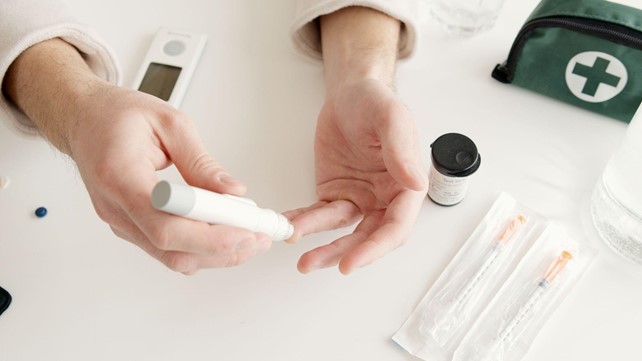 What is diabetes?
Diabetes is a chronic health condition where the level of glucose (a type of sugar) in your blood is too high. Glucose is usually controlled by a hormone called insulin. Diabetes is caused when there is a problem with your body's insulin production.
There are two main types of diabetes:
Type 1 Diabetes — this is caused by an autoimmune issue in which the body stops being able to produce insulin. It is most often diagnosed in people under 30, often in children.
Type 2 Diabetes — often called a 'lifestyle' disease because it is believed to be caused by factors such as diet and lack of exercise. 85 to 90 percent of people with diabetes have type 2, which is considered to be largely preventable through exercise and dietary changes.
Some women may experience diabetes during pregnancy, which is called gestational diabetes. This often passes after childbirth.
There is no cure for diabetes but it can be managed through diet, exercise and insulin injections.
Signs and symptoms
People with diabetes commonly experience:
significant thirst
passing urine frequently or in high volumes
unexplained lethargy
itchiness, especially around the genitals
nausea and vomiting
weight loss
mood swings
slow-healing wounds
severe symptoms of headache, dizziness, mood swings and shaking when hungry or blood sugar levels fall.
Some people experience no symptoms of diabetes and it can go undiagnosed for a long time. Being overweight, eating a high sugar diet and having high cholesterol levels are strongly linked with type 2 diabetes.
Diagnosis and treatment
You should speak to a doctor if you are worried you have symptoms of diabetes, or think you might be at risk. Your doctor will then ask you to get a blood test to check the levels of glucose in your blood. Your doctor will then design and maintain a clear management plan for your diabetes.
While there is no cure for type 1 or 2 diabetes, the effects on your life and health can be managed through diet, exercise and medication.
Type 1 diabetes is treated with insulin injections or an insulin pump to support your body's regulation of glucose in the blood.  Although Type 1 diabetes isn't caused by lifestyle factors, managing your diet and exercise can reduce your risk of developing complications as a result of the condition. Serious complications can include kidney disease and circulation problems, especially in the feet.
Type 2 diabetes may initially be treated through simple lifestyle changes. These generally involve increasing your exercise and modifying your diet to help control the levels of glucose in your blood. Medication may be considered if your diabetes gets worse.
Blood glucose monitoring is another important part of managing diabetes, helping you and your doctor understand the effect your management plan is having on your condition. This is a useful indicator of the success of your plan, allowing you and your doctor to adapt as necessary.
Diabetes management and the NDIS
If you have a permanent and significant disability that makes it difficult for you to manage your diabetes independently, you may be eligible for funding through the National Disability Insurance Scheme (NDIS). The NDIS provides funding for a range of
supports relevant to managing diabetes
.
Having diabetes does not make you eligible for the NDIS. Find out who to contact about the NDIS where you live for more information about the Scheme.
If you're eligible for the NDIS and have diabetes, you may receive funding to:
develop a diabetes management plan in light of the impact your disability has on your ability to care for your diabetes. Please note, this management plan doesn't replace your general practitioner's clinical advice and plan for diabetes management, simply adds to it.
implement your diabetes management plan including daily support and maintenance from a qualified NDIS support worker
train a suitably qualified NDIS support worker in diabetes management.
The NDIS funds a range of other disability-related health supports that may be relevant to your care, including supports for subcutaneous injection, dietetics and nutrition.
How Claro can support you
There are a number of ways Claro can support you to manage your diabetes.
If you're already an NDIS participant and want to know how to access diabetes management supports, talk to us. NDIS registered provider, our staff are experienced in managing a range of disability and health conditions, and will work with you to develop and implement a tailored diabetes management plan, including injection support and home support services.
We also partner with Plena Healthcare to connect you with the allied health services you may need as part of your holistic care, including dietetics and podiatry.
Our knowledgeable Support Coordinators can help you coordinate your treatments and services to get the most out of your NDIS budgets.
Talk to us to find the supports you need to manage your diabetes for life.