Specialist Disability Accommodation SDA in Caboolture South
Specialist Disability Accommodation SDA in Caboolture South, 4 Resident House

Property Type
4 Resident House

Accessibility
High Phyical Support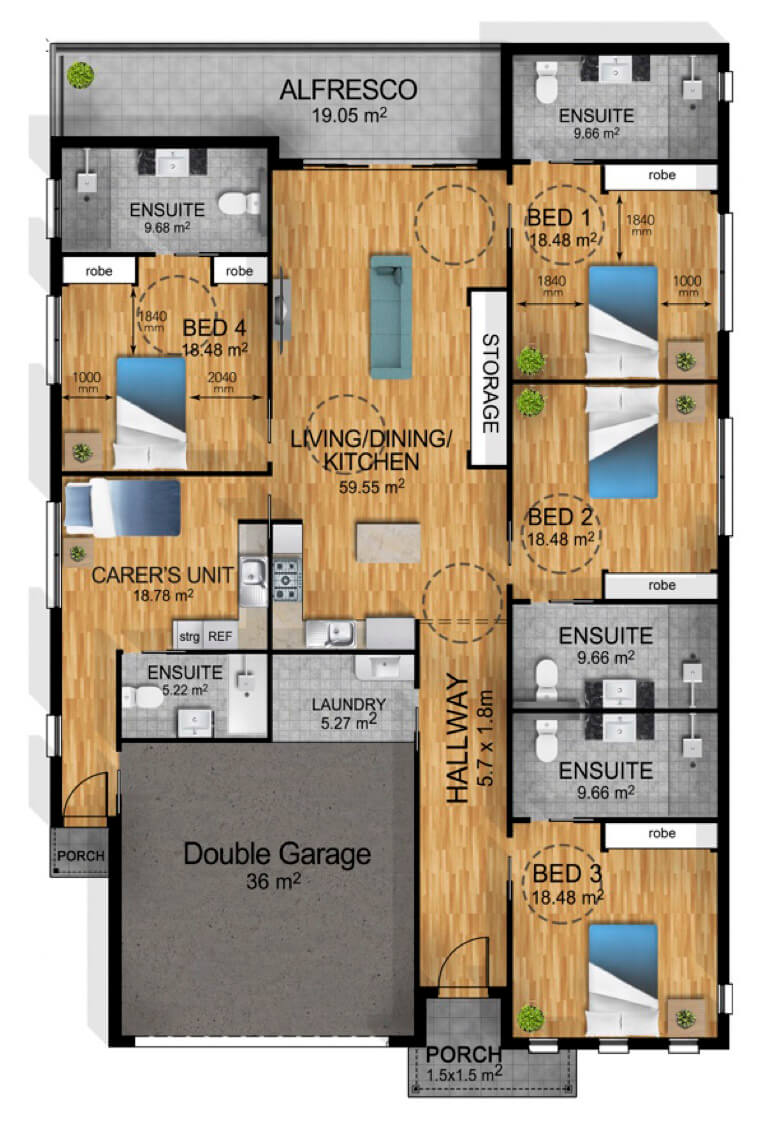 About the property
This Specialist Disability Accommodation SDA in Caboolture South is a 4 bedroom, 4 bathroom, 2 car garage 'High Physical Support' home + carer bed bath.
Our homes are designed with independence, safety and accessibility top of mind – all while having high quality finishes and fittings and a stylish home that looks no different from the street than any other home.
*To be eligible for Specialist Disability Accommodation, you will need to be a NDIS participant and your plan needs to include approved Specialist Disability Accommodation Funding. If you are unsure if you qualify, have a chat with your NDIS coordinator or contact intake@claro.com.au / Femi Adeniyi 0439 308 328 / Joe Vandayar 0475 777 417.
Features
Large 227m2 home

Free wifi for residents & Support Workers

Accessible bathrooms – Hobless shower, pedestal sink, handrails with additional wall reinforcement

Custom Accessible kitchen – room for wheelchair under bench, side opening oven

Structural provision for ceiling hoists to bedrooms & en-suits

Accessible window and door handles

A/C to each bedroom + living

Exclusive 'iSaint Assistive Technology' in each SDA Smart Home

Wheelchair Accessible

Accessible Features

Ceiling Hoist

Outdoor Area

Ensuite
What's nearby?
414m to the nearest bus stop at Market Drive, Caboolture South QLD, Australia.

865m to the nearest shopping centre at Morayfield Shopping Centre, Morayfield Road, Morayfield QLD, Australia.

2km to the nearest hospital at Caboolture Hospital, McKean Street, Caboolture QLD, Australia.