SDA in Mt Barker
SDA in Mt Barker, 3 Resident House

Property Type
3 Resident House

Accessibility
High Physical Support / Fully Accessible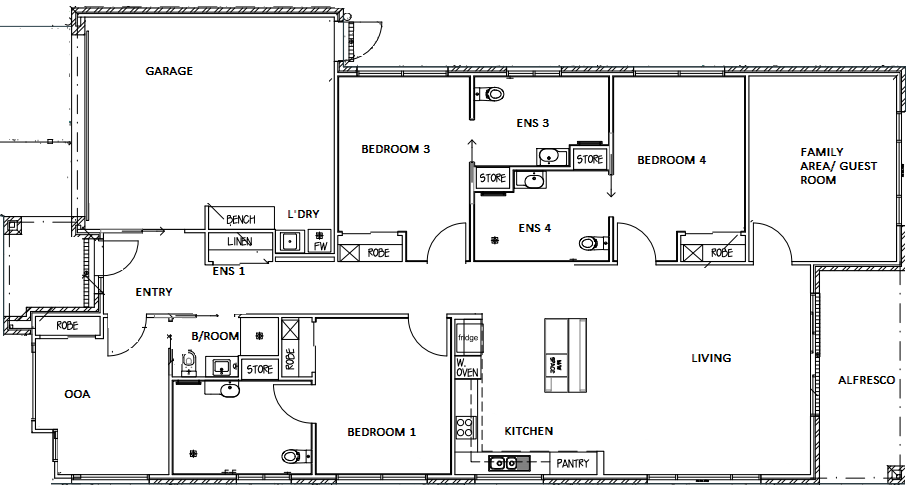 About the property
This SDA in Mt Barker is a smart and stylish 3-bedroom home. Located in a welcoming street in the bustling suburb of Mount Barker, Adelaide hills this property invites you into the local community.
Spacious and light-filled, each of the three bedrooms has its own accessible bathroom with an oversized shower, full height tiling, ample storage and celling reinforcements to allow for hoist installations if required. The kitchen, being the heart of the home, gives a warm invite to the shared living spaces of your new home. Individual pull out pantries line the kitchen, complimented by accessible preparation and cooking areas, featuring luxury appliances and stone benchtops.
Functional and smart, this home is pre-fitted with a range of state of the art assistive technology modifications, including automatic bedroom doors, blinds, lighting and fully electric kitchen benchtops. You will also enjoy zone-controlled air conditioning, in full control of your climate comfort.
In this home, you are able to rest easy knowing the space is equipped with back up battery power and industry leading emergency response systems. The home comes complete with a separate bedroom and bathroom for a carer (onsite Overnight Assistance) to ensure your immediate access to supports, when and how you choose.
*To be eligible for Specialist Disability Accommodation, you will need to be a NDIS participant and your plan needs to include approved Specialist Disability Accommodation Funding. If you are unsure if you qualify, have a chat with your NDIS coordinator or contact intake@claro.com.au / Libby Chapman 0404 403 581.
Features
Wheelchair Accessible

Accessible Features

Ceiling Hoist

Strong walls, doors, glass and soundproofing

Outdoor entertaining space

Ensuite

Built-in Wardrobes

Washing machine, dryer, microwave, cooktop, rangehood, dishwasher)

Accessible side-opening oven with pull out resting drawer

Adjustable electric kitchen benchtop

Personalised security systems
What's nearby?
22km to the nearest train station at Belair SA, Australia.

757m to the nearest bus stop at Stop 85 Hurling Dr – South side, Mount Barker SA, Australia.

2km to the nearest shopping centre at Mount Barker Village Shopping Centre, Victoria Crescent, Mount Barker SA, Australia.

2km to the nearest hospital at Mount Barker District Soldiers' Memorial Hospital, Wellington Road, Mount Barker SA, Australia.

2km to the nearest park at Keith Stephenson Park, Mount Barker SA, Australia.

2km to the nearest medical practice (GP) at Mount Barker South Medical Centre, Wellington Road, Mount Barker SA, Australia.