Your psychosocial health is important to us
Your safety is important to us
When we think of safety in the workplace, we often think about things like minimising the risk of injury through unsafe work practices, equipment or accidents. But a lesser understood component of workplace safety is psychosocial safety. Many hazards in the workplace can impact your psychosocial health, which is why we take active steps to protect our workforce from psychosocial hazards.  
What is psychosocial health?
Psychosocial health is defined as a state of mental, emotional, social and spiritual wellbeing. 
It refers to "the influence of social factors on an individual's mind or behaviour, and to the interrelation of behavioural and social factors" (Oxford English Dictionary, 2012). 
In simple terms, social factors in the workplace can influence people's mental health and behaviour. 
Psychosocial health at work
A psychosocial hazard is anything that could cause psychological harm to a person. There are many ways your psychosocial health could be impacted at work. In the workplace, some of the more common psychosocial hazards include: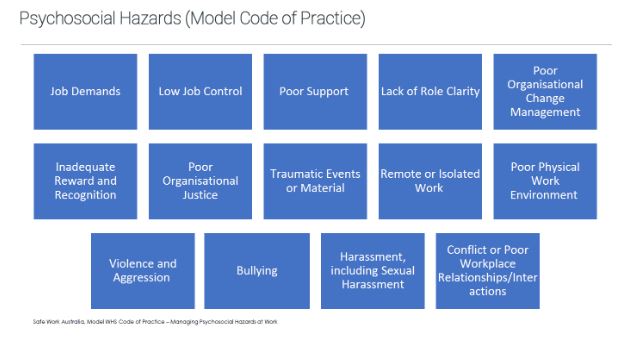 Any of these hazards can directly or indirectly impact your wellbeing. You may notice it yourself or in others, and in some instances you might not realise the impact at first.  
Working with vulnerable clients who are ageing or living with disability can bring situations that might affect our team's psychosocial safety. Events and circumstances that you experience can take a toll on your mental well-being in the long run, and it's important to recognize that you are human and it's ok to ask for help. We are here for you and will make sure you are ok.  
How we support our people's psychosocial health
If you experience a physical or psychosocial injury at work, our team members/employees have immediate access to our Injury Hotline, which is staffed by allied health professionals experienced in workplace safety. The Injury Hotline is especially useful for our community-based team members who often work alone. This service provides support to immediately triage the injury, access medical appointments, referrals and support to ensure your return to health and work.  
Our inhouse Workplace Health and Safety team will also support you to follow up on actions taken and see how you're feeling physically and mentally. Our team will support you with access to our Employee Assistance Program (EAP)where you can talk with a counsellor to debrief on the incident. This appointment is free of charge and provided as part of our EAP. The counsellor will talk to you about your wellbeing, and you can discuss the incident, how you feel at work, or even things in your personal life that impact your overall wellbeing. The counsellor is legally bound to never disclose anything you discuss in the appointment. No one will find out what has been talked about with your counsellor. They are simply there to support you, listen to you and give you advice that could help you feel better.  
If you like the counsellor session, you can have a follow up session with the same counsellor. Through your employment you can access 3 sessions per year for free. Find out more or contact our EAP provider directly through their website https://www.eapcounselling.com.au/    
If any of the psychosocial hazards impact you, take action – speak up!
We know it's easier said than done, but it will help you to speak with someone. You could start by speaking trusted colleagues, friends or family or perhaps take a pen and write it down. Being open can help you sort your thoughts and bring clarity to possible solutions. You could start by considering the following questions 
What bothers me? What impacts my wellbeing? 

 

What would help? What would fix the issue? 

 
In addition to our Employee Assistance Program, our people have access to anonymously report any issues or concerns via our Speak Up Hotline .  The Speak Up Hotline is an independent and externally managed hotline provided by our integrity partners, Core Integrity.